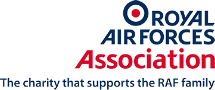 What is RAFA and What We Do
The Royal Air Forces Association (RAFA) is an international charity that provides welfare support to serving and ex-serving Royal Air Force personnel, their spouses and dependant children, throughout the world. The delivery of this welfare is centred on a Branch system. Branches are located overseas and throughout the United Kingdom and members of the Branches identify cases of need, which are then resolved through the efforts of the Branch's welfare team. Branches also hold regular meetings to further comradeship and friendship between members, to arrange and participate in visits to places of interest and to keep up to date on what is happening in today's Royal Air Force.

Branches maintain a close link with the Royal Air Force family and are often included in ceremonial and remembrance events alongside serving personnel. In addition, Branches foster and maintain close links with the Air Training Corps, the Combined Cadet Force, the Girls Venture Corps and the Air Scouts.

RAFA supports air minded youth, serving and retired Royal Air Force personnel and veterans.

Full membership of the Association is open to all those who have served in the Royal Air Force, the Royal Air Force Reserve, the Air Forces of the Commonwealth or the Royal Observer Corps. Associate membership is available to those who support the aims of the Association and wish to be involved in the work and social activities of the Association.
Contact Us