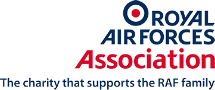 Back
5th Mar - Branch AGM was held at the Harlescott Social Club

13th May - Branch Members attended the RAFA Service to commemorate the RAF's Centenary held at the National Memorial Arboretum in Alrewas, Staffordshire.

2nd Aug - Branch Members celebrated the 100th anniversary of the RAF with a Lunch at the Wroxeter Hotel.
28th Jul - The RAFA Token was passed to the branch by members of the Wrekin/Wellington branch. The token is being passed to RAFA groups thoughout the area and will be transferred to the Ellesmere Branch on 5th Aug.

On the 16th May Branch Members attended the presentation of equipment to the RAF Shawbury Contact House.